---
Rick's Cabaret/NYC Entertainers Ready To Salute The Troops For Armed Forces/Fleet Week
---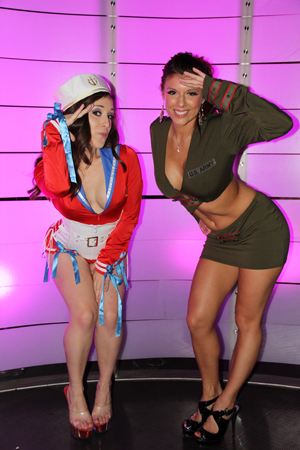 The entertainers at Rick's Cabaret/NYC, the nightclub Playboy.com calls the "best strip club in New York," are prepared to give the troops a very patriotic Big Apple welcome during this year's Fleet Week. Anyone in uniform gets free admission to the club with drink specials throughout the days and nights from May 22nd through May 30th. The club at 50 W. 33rd St. is part of the publicly traded Rick's Cabaret International, Inc. (NASDAQ:RICK) group of upscale gentlemen's clubs.
"Every single one of our entertainers loves people who serve in the armed services and help protect our country, and they always go all out to give these men and women a great time," according to Ken Sistrunk, general manager of the club that is across the street from the Empire State Building and a block from Madison Square Garden. "We're calling it 'Armed Forces Week' because we want to honor everyone in the services."
"The sailors especially always rock my boat," said Tasha, one of the shapely entertainers. "Many of us will be wearing special outfits to honor the troops. We give everyone a great show when they are at Rick's but we go all out for these guys because we want to show them our patriotic side—and a couple of other things."
With three floors of non-stop entertainment, a roof top smoking deck and more than 100 topless entertainers daily, Rick's Cabaret has been named the best gentlemen's club in the Northeast. The club features a highly rated, first class steakhouse and private rooms for more intimate entertaining.
Hosted nearly annually since 1984, Fleet Week New York is the city's celebration of the sea services, providing an opportunity for the citizens to meet Sailors, Marines and Coast Guardsmen, with dozens of military demonstrations and displays throughout the week, and public visitation of many of the participating ships. Sunday has been set aside as Armed Forces Day to honor all men and women in the military.
Fleet Week at Rick's in NYC
Stars and Stripes Forever.
The Navy and Army come together.
This sailor enjoys shore leave.